Land use intensification,  community plant functional properties and ecosystem processes
PhD thesis developed between 2010-2013.
Effects of land-use intensification (LUI) on biodiversity, ecosystem functions, and services is one of the global concerns for human well-being. In this dissertation I explored the mechanisms through which LUI affects plant communities and ecosystem processes in the Bolivian lowland tropics
Related paper are in Publication on this webpage.
PhD Defense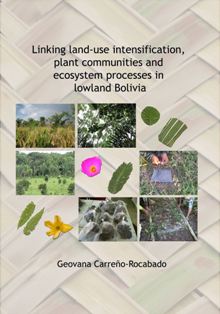 Linking land-use intensification, plant communities and ecosystem processes in lowland Bolivia
Public defense PhD thesis Geovana Carreño-Rocabado On Monday, May 13, 2013 at 16.00 in the Aula of Wageningen University – Generaal Foulkesweg 1, Wageningen
Live at WUR TV online video channel //wurtv.wur.nl
A short summary of the thesis you can read at www.fem.wur.nl.